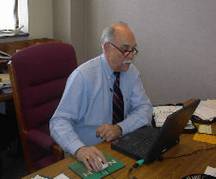 FROM  THE  DIRECTOR
H. Leon Thacker, DVM, PhD
Good day from the Purdue ADDL.  This is a great time of the year with harvest of crops, crisp, changing air temperatures, and football.  In case any of you have not noticed lately, the Purdue team, under the tutelage of Joe Tiller is doing quite well this fall, perhaps foreboding of post season invitation to a high ranking bowl game.
The activity in the ADDL continues to be busy but, with the passing of a fairly hard frost, it is now permissible to state that the occurrence of West Nile Virus infection in our state this year has been markedly reduced from that of '02.  We have had only one horse posted in the lab diagnosed with West Nile Virus infection as the cause of death.  We're told by our entomologist friends that there was a lower mosquito population in the state this year; it is also likely, or a given, that immunity among horses vaccinated in the state and among our bird population from natural exposure, was higher than last year.
Among the personnel of the ADDL, we are sorry two valued staff members, Dr. Randy White, pathologist since 1988 who went to work for Bristol, Myer, Squibb in Evansville, and Ms. Janeice Samman who ahs worked in our histology lab for the past 38 years and retired in September.  We wish them both success and happiness in the years ahead.  We have had the opportunity to welcome two new faculty members in September, Dr. Peg Miller and Dr. Pepe Ramos, both accomplished anatomic pathologists who came to us from the University of Missouri.  We are very happy and fortunate to have Peg and Pepe on the ADDL faculty and look forward to many years of their contributions to the ADDL and School of Veterinary Medicine strategic plans, accomplishments, and services.
A change of shipping regulations which includes transport of cultures of known content has effected change of the means whereby we can ship cultures back to practicing veterinarians.  In order to receive known/identified bacterial cultures, a permit and permit number from the USDA is required.  As long as the shipped material is either suspicioned to have bacterial presence or is sent as diagnostic specimen, i.e. being sent to the laboratory for culture, the requirements for shipping remain unchanged.
We hope that you are enjoying the changing of the fall season and that you will keep us apprised of your diagnostic needs.  It is our desire to provide you with animal disease diagnostics in the most accurate and timely manner currently available to veterinary application.