Epizootic Hemorrhagic Disease in Indiana
Epizootic Hemorrhagic Disease (EHD) is a fatal disease of white-tailed deer that occasionally affects cattle, but not sheep. The disease in cattle is either subclinical or mild and usually manifests as oral erosions not specific to any particular part of the oral cavity, lameness with no obvious lesions on the feet, and erosions on teats and udder in severe cases. EHD resembles the disease caused by the Bluetongue virus (BTV). Both viruses are in the same genus, Orbivirus, and may cross react in diagnostic testing. When these lesions are seen, EHD and BTV are primary, differential diagnoses.
During the summer of 1996, 44 cattle seropositive for EHD were located in nine Indiana counties. The distribution of the cases is shown in Figure 1. Most of the cases have occurred in the lower one third of the state. Reported lesions are oral and teat ulcers, and a severe lameness with no obvious lesions on the feet. Cattle are usually affected for 7-10 days and then recover regardless of treatment. Most of the cases have been reported in cows six to ten years-of-age, although calves have tested positive. Both sexes and all breeds can be affected, although beef cattle are the majority of the cases that have been seen in Southern Indiana. Of the 44 cases reported, only three animals have died which is consistent with bovine death losses reported in the literature. Since the virus is transmitted by the biting midge, Culicoidesvariipennis, the incidence of the disease should decrease as the weather becomes colder.
On agar gel immunodifiusion tests (AGID), EHD and BTV cross react. Of the 44 seropositivecases, 22 tested positive for BTV as well as EHD on AGID, although the BTV results were usually weakly positive. Five of these 22 serum samples were sent to NVSL in Ames, Iowa for serum neutralization; all five were negative for BTV and positive for EHD. When AGID gives a positive result for BTV, serum neutralization can be performed for a definitive diagnosis.
White-tailed deer are reservoirs for EHD; however, to this date, no wild deer have tested positive. Four captive deer have tested positive in Gibson, Sullivan,Dubois, and Daviess counties. Two of the four deer were dead at the time of testing.
- by Kara L. Nelson, Class of 1997
- edited by Wm. Van Alstine,DVM,PhD
References:
Metcalf, H.E.,Luedke, A.J. and Jochim, M.M.: "Epizootic Hemorrhagic Disease Virus Infection in Cattle" in Bluetongue, African Horse Sickness and Related Orbiviruses,edsWalton, T.E. and Osburn, B.I.,CRC Press Inc.BocaRaton, Florida, 1992, p. 222.
Osburn, B.I.,Arabaib, I.E. and Schore,C.E.:"Comparison of Bluetongue and Epizootic Hemorrhagic Disease Complex", Bovine Pract, 1995, 29:109.
Incidence of EHD in Cattle in IndianaFrom 8/9 to 9/23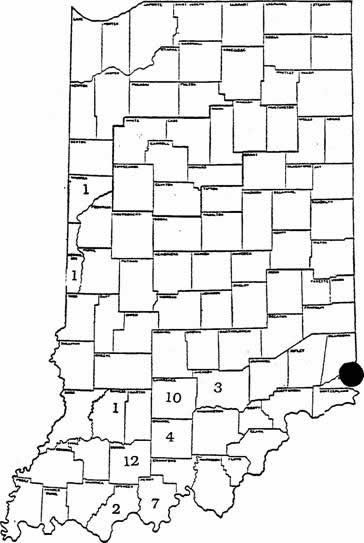 Figure 1