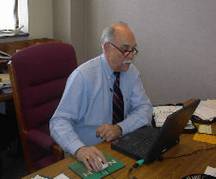 FROM THE DIRECTOR
H. Leon Thacker, DVM, PhD
Greetings. I hope this finds you enjoying spring weather and looking forward to the freshness that this season brings to us. I understand that the arctic and gulf streams had unusual interaction this winter so that we received mild weather through most of the season in the Midwest. As a consequence of the mild winter, perhaps the anticipation of spring has been somewhat diluted this year. It seems that even with the mild winter, this spring has brought a high incidence of "weak calf syndrome". We received reports that this is occurring in high numbers in other states as well; there are a number of theories as to causes and contributing factors including copper deficiency, vitamin A deficiency, protein/energy deficiency of the dam, BVD and others. Following the mild nature of the winter we just experienced, perhaps the influence of a harsh winter can be placed lower on the list of causes than has been heretofore thought. WCS likely has multifactoral etiologic contributions and may be influenced by different factors in various areas of the country and in different fall-winter-spring weather patterns.
I regret to report that Dr. Evan Janovitz will be leaving ADDL at the end of April to take a position at Bristol, Myer, Squibb. Evan has been a vital part of the ADDL faculty for the past 14 years, his excellent contributions to the training of our anatomic pathology graduate students, his expertise in the diagnosis of neural disorders and neoplasia, as well as his general diagnostic acumen, will be sorely missed. ADDL is fortunate to have had Evan's input for the years he has been here. We wish him highest success in the coming years in his new position. I am sure that he will soon prove to be as vital to BMS as he has been to ADDL. We are still attempting to fill the diagnostic virologist position that was vacated by Dr. Chuck Kanitz last year. It remains to be seen whether or not the state budget status will allow efforts to fill this position to proceed. We will continue to make every attempt to provide you with up-to-date diagnostic assistant with as prompt as possible turn-around time.
As always, I hope that we are providing you with the diagnostic needs that you have. If not, I hope that you will let us know. Wishing you a most pleasant spring season.